Mt. Gilead mayor and former SCSJ client Patty Almond reached out to SCSJ to report a possible case of voter suppression in her small town in Montgomery County. SCSJ previously represented Ms. Almond in a successful election protest in 2012. On the morning of Election Day this year, police arrested 59 African Americans, many of whom were eligible to  vote in the municipal election.  As SCSJ continues to investigate the situation, we put her in touch with Brentin Mock, the reporter who did the story below to bring more attention to this suspicious police activity.  
Was Election Day drug bust an attempt to intimidate black voters in NC?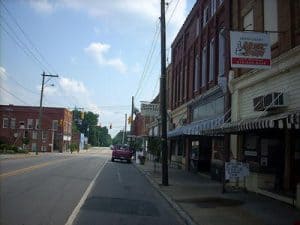 Residents of Mount Gilead, a town of about 1,100 people in central North Carolina, are reeling from a police sting operation that netted 59 arrests the morning of Election Day. All of those arrested were African Americans, all for possession of drugs, alcohol and guns. Some there are questioning the timing of the bust and believe it was an attempt to intimidate African Americans from showing up at the polls that day.
Police began rounding up suspects early in the morning, before polls opened, and, according to Mt. Gilead residents interviewed, none were released by bond until after 7:30 p.m. when polls were closed.
"It was a form of voter disenfranchisement and intimidation," said Mount Gilead resident David Allsbrook by phone. "That's what it was done for, to offset votes."
But North Carolina Department of Public Safety spokesperson Patty McQuillan said she doesn't believe it had anything to do with elections. "I didn't even know it was Election Day," she said when reached by phone.
According to a
press release
from the department, about 100 officers and deputies from four town police departments and the Montgomery County Sheriff's office swarmed Mount Gilead in search of 68 suspects at "four illegal alcohol outlets." A local newspaper report said they began at 4:30 in the morning. They arrested 59 people and confiscated "approximately 200 grams of cocaine, 400 grams of marijuana, 40 liters of alcohol, 25 grams of opiates and three guns."
According to Allsbrook, who's lived in Mount Gilead most of his life, the people arrested were known alcoholics and drug addicts, not drug dealers. Undercover agents had been gathering evidence on the suspects since early 2013, according to the press release.
"The operation's results were outstanding," said Montgomery County Sheriff Dempsey Owens. "The Montgomery County Sheriff's Office is proud to have been a part of such a successful operation. I look forward to many more operations like this one in the future."
Allsbrook said he believes the bust was done to affect the outcome of several races — two involving African Americans running for town hall commissioner seats and the re-election of Mayor Patty Almond, a white woman who had the support of the black community.
Almond
lost to Earl Poplin
by about 90 votes — a larger margin than the number arrested that morning.
But Allsbrook said the families of those arrested spent most of the day trying to make bail for their family members, while others throughout the community may have been afraid to come out.
"They do anything they can to intimidate people," said Allsbrook of the police.
Reached by phone, the outgoing mayor said the police operation "scared the dickens out of a lot of the people who lived around" those arrested.
"We feel their right to vote was taken from them," said Almond. "It's a stretch for me to think that this was a coincidence. If this is something they are trying to do to keep voters away, then this is pretty below-the-belt."
Almond has herself been
stung by controversy
in her campaigns to become mayor of Mount Gilead. In the 2011 election, she lost by just two votes. It was later discovered that four black voters were denied ballots when their town residencies were challenged. The state board of elections voted to throw the results out and have a new election, which didn't happen until November the following year. Almond won and was finally installed in office in December 2012.
Having served barely a year, she was up for re-election last week. Almond said in our interview that she was considered an "outsider" because she grew up in Charlotte, and that her push for more transparency in how the town used government funding may have won her some enemies.
As mayor, she said she also tried to push for more social equality, but "that's just not a popular thing to do in rural America."
McQuillan of the state public safety department said the timing of the sting probably was just "the only day that all of them could get together," meaning the police involved.
"It's so hard to find a date where there isn't this or that thing happening," said McQuillan. "It's almost impossible to schedule anything because there is always something going on."
But Election Day comes only once a year.
By Brentin Mock on Wed, 11/13/2013 – 10:36