A federal judge today ruled that a trial over North Carolina's sweeping voter suppression law will be held in 2015. U.S. District Court Magistrate Judge Joi Peake also said the court would hear requests this summer for an injunction to halt some or all of the law's provisions from taking effect until after the trial. The American Civil Liberties Union and the Southern Coalition for Social Justice, which challenged the law in August, sought judicial review in time for voters to participate in the crucial 2014 midterm elections. In contrast, North Carolina asked the court to delay the trial date well into 2015 or later.
Here SCSJ's Allison Riggs discusses today's decision with reporters from the Winston-Salem Journal.

The ACLU, the ACLU of North Carolina, and the Southern Coalition for Social Justice's lawsuit targets provisions of the law that eliminate a week of early voting, end same-day registration, and prohibit "out-of-precinct" voting. The groups charge that enacting these provisions would unduly burden the right to vote and discriminate against African-American voters, in violation of the U.S. Constitution's equal protection clause and the Voting Rights Act of 1965.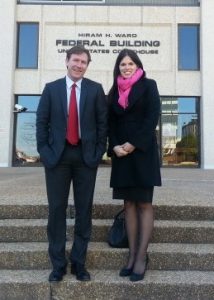 The case, League of Women Voters of North Carolina et al. v. North Carolina, was filed in the U.S. District Court for the Middle District of North Carolina. It was brought on behalf of several North Carolinians who will face substantial hardship under the law, and on behalf of the League of Women Voters of North Carolina, the North Carolina A. Philip Randolph Institute, North Carolina Common Cause, and Unifour Onestop Collaborative, whose efforts to promote voter participation in future elections will be severely hampered.
"We will be fighting hard to ensure North Carolina voters have a chance to cast their ballots in the 2014 midterm elections without having to navigate the damaging provisions of this voter suppression law," said Southern Coalition for Social Justice attorney Allison Riggs.
More media coverage is available below.
Huffington Post
Raleigh News & Observer
Greensboro News & Record
The Carolina Mercury
Winston-Salem Journal