Brentin Mock,
Institute for Southern Studies
It is well-documented that the heaviest burdens under strict photo voter ID laws fall on African Americans, Latino Americans and those of low income.
Large numbers of people in these groups don't have cars, so they may not have a driver's license to vote. Many work hours that make it hard to visit a state motor vehicle office to obtain ID. Those same work hours can make it difficult to get to the polls on time on Election Day, which is why early voting is so popular among these groups.
But voter ID laws also disproportionately affect another group: women.
I reported last year in The Nation about the
"war on women voting,"
and that war is
still being fought
today. We see this with Texas' onerous voter ID law, which
entangled state Sen. Wendy Davis
and District Court
Judge Sandra Watts
when they tried to vote in recent elections.
Approved by the legislature earlier this year, North Carolina's photo voter ID law will be implemented in 2016 if it is not stopped by
lawsuits claiming it will hamper voting
by low-income people and people of color. And there's now evidence that the law, like those in other states, will also present special problems for women.
The Durham, N.C.-based Southern Coalition for Social Justice — among the parties that have filed lawsuits filed against the state's voter ID law and redistricting plan — recently
analyzed data
from the state board of elections. SCSJ found that of the over 318,000 North Carolina voters who lack required ID, 63 percent are women. Looking at the state's own report on those without ID, SCSJ found that 43 percent of registered women voters without photo ID are women of color. African-American women, who made up just over 23 percent of North Carolina's registered female voters in 2012, represented 34 percent of women without ID.
And it's not just the voter ID provision of North Carolina's law that disproportionately impacts women: so do provisions shrinking the early voting period and eliminating same-day registration.
Over 55 percent of early voters in the state's 2012 general election were women, and African-American women accounted for 31 percent of early voters. The same disproportionate burden on women voters of color results from ending same-day registration. This SCSJ infographic shows the broad impact of North Carolina's Voter ID law on women: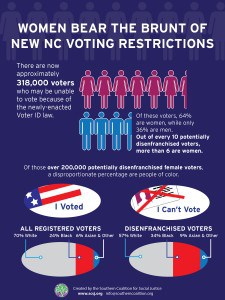 But it's not just women without photo ID who will face problems voting. Women with ID whose names have been changed due to marriage status could be encumbered or denied under the new law. Given the snafus encountered by women voters this past week in Texas, this is no small concern.
In Texas, if a woman's name on her ID doesn't match her voter registration record in a highly recognizable manner, then she may sign an affidavit swearing to her identity. The Texas Tribune
reports
that at least 40 percent of early voters in Fort Bend County had to sign affidavits because of name discrepancies. In Travis County, 20 percent of nearly 32,000 early voters signed affidavits, most of them women, according to Travis County Clerk Dana DeBeauvoir.
Sen. Davis, who is running for governor, was among those Texans who had to sign an affidavit to vote. Ironically, it was Davis's last-second amendment to that state's voter ID law that allowed for the affidavit safeguard.
But North Carolina lacks that same safety net. As SCSJ states in their report:
"If North Carolina's new photo ID requirement goes into effect in 2016, there will be no affidavit option — if a person's photo ID is not deemed acceptable, that person will simply be turned away from the polls. And the people most likely to have those non-matching documents are women voters."
By Brentin Mock on Fri, 11/08/2013 – 10:57