http://www.ncpolicywatch.com/2013/08/14/private-turned-charter-school-raises-questions-of-access/
Private-turned-charter school raises questions of access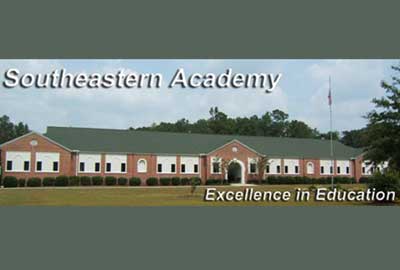 The actions of a private-turned-charter school in Robeson County have parents and concerned citizens questioning whether the school is trying to limit access to the school, and raise questions about the enforcement of the state law that mandates that charters have fair and open enrollment policies.
Southeastern Academy is located eight miles outside of Lumberton and was, until last spring, a private school serving approximately 180 students in grades kindergarten through eight.
Facing declining enrollment, last year Southeastern applied to become a public charter school. Changing status from a private institution to a public one would allow the school to receive taxpayer dollars for the number of students it serves, instead of charging tuition to those who could afford the price tag.
School officials promised in their charter application to the Department of Public Instruction the school would hold an open enrollment period of sixty days.
Southeastern also promised that it would advertise the enrollment period by posting it on the school's website, in flyers, newspaper ads, other websites, and mailings. They would also hold an open house.
North Carolina awarded Southeastern Academy a charter on March 7, 2013. The next day, Southeastern held a 1-day open enrollment period, during school hours, from 8am to 4pm.
Southeastern publicized the 1-day open enrollment period on March 7th and 8th in the local newspaper. School officials also put a notice on Southeastern's website.
What happened to the 60-day enrollment period that Southeastern Academy promised in their charter school application? Who actually submitted registration applications during that 1-day open enrollment period? And why does a well-publicized enrollment period matter for public charter schools?
***
North Carolina law requires that public charter schools be free and open to the public.
Open enrollment policies are critical to ensuring that all children have equal opportunity to be considered for admission by lottery, as outlined in N.C. Gen. Stat. 115(C)-238.29(F)(g)(6).
After Southeastern held its 1-day open enrollment period on March 8, parents reported that 190 registrations were submitted – 10 more than the available 180 slots, according to
a letter
addressed to the Office of Charter Schools from Clare Barnettt, a staff attorney at the Durham-based Southern Coalition for Social Justice (SCSJ).
SCSJ submitted a complaint to the Office of Charter Schools on behalf of parents who had wished to enroll their children at Southeastern Academy and on behalf of the Center for Community Action, based in Lumberton.
While Southeastern Academy did hold two additional days of open enrollment–on May 10th and July 23rd–to fill vacant slots in 3rd and 8th grades, SCSJ contends that Southeastern Academy never offered a meaningful open enrollment period for members of the general public.
"Just as a charter school may not conduct enrollment or lotteries prior to the grant of the charter, it is clearly contrary to legislative intent to fill the majority of seats the day after charter school status is approved, before parents have the time and information necessary to make an educated decision about applying to the charter school," Barnett said in the SCJC complaint.
***
Rev. Mac Legerton, who is the executive director for the Center for Community Action, submitted
a list of possible ways
Southeastern Academy could rectify this situation, including a proposal that Southeastern hold a 15-day open enrollment period at the beginning of August 2013 – still far shorter than the proposed 60-day enrollment period as outlined in their charter application.
According to director Joel Medley, the Office of Charter Schools corresponded with Southeastern and went to visit with them on August 1, 2013 to discuss the matter further. Medley said that school officials came to understand their error and were asked to provide a plan to rectify the situation. Their proposal increased class sizes to accommodate more students (for which they will not be paid), reopened their enrollment period for 3 days, posted this information on their website and in the local newspaper for 3 days, and held a lottery to fill those seats. The Office of Charter Schools was in attendance to observe and make sure everything was done above board.
Initially, students who were on a previous waiting list from the spring would not be allowed to participate in the new lottery. Southeastern held the 3-day open enrollment period last week, August 7-9. According to Legerton, ultimately the school decided to add students already on a waiting list to the new lottery, which was drawn Monday, August 12th.
Caroline Williamson, headmaster of Southeastern Academy, explained to NC Policy Watch that she believed time was the real factor in why her school didn't hold a lengthier open enrollment period.
"We didn't receive our charter until mid-March, and you can't hold enrollment until you get a charter," said Williamson. She explained that because Southeastern had planned to hold an open enrollment period from February 1 to March 30, the late notice of the charter award made it difficult to hold themselves to those terms.
"In the spirit of Southeastern Academy, we do want to work with everybody," emphasized Williamson.
Williamson said that going forward, Southeastern did plan to hold 60-day open enrollment periods in subsequent years. Medley says Southeastern is being watched closely by his office this year to ensure that they implement the described process in their application for the next round.  They have received a governance warning from the Office of Charter Schools and it will stay in effect through their enrollment period next spring.
***
The case of Southeastern Academy's enrollment procedures, and the fact that the Office of Charter Schools did not hold the school to its initial promise, raises bigger state level policy questions, according to Rev. Legerton.
"How do we be sure that there is equal opportunity for all students to take advantage of more creative charter school curricula?" Legerton asked.
"There are already barriers to access when it comes to charter schools, thanks to the fact that they are not required to provide lunch or transportation," Legerton said. "We need to remove as many barriers as possible. One way to do this is to require that charter schools provide basic information to the public about enrollment and require that charter schools provide meaningful open enrollment periods."
"We just want to work with the Office of Charter Schools to improve state policies and procedures so that parents and children have the best information about public schools," Legerton said.
Southeastern Academy's students begin school on August 26th, the first day of school for all public school students in North Carolina.
***This story was changed from its original version to reflect the fact that Southeastern Academy proposed a 3-day open enrollment period to rectify this situation to the Office of Charter Schools. The Office of Charter Schools accepted their proposal.
– See more at: http://www.ncpolicywatch.com/2013/08/14/private-turned-charter-school-raises-questions-of-access/#sthash.30breQeb.dpuf