Today is our last day with long-time community organizer, immigrants' rights advocate, and social justice pioneer Rebecca Fontaine. We wish her all the best in her future endeavors! Below is Rebecca's farewell letter  and photos from our time together.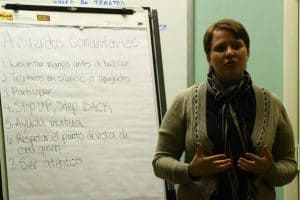 Dear compas in struggle, friends, and colleagues,
I am writing to let you know that I will be transitioning out of my position as a community organizer with the Southern Coalition for Social Justice (SCSJ).  At this difficult economic time, SCSJ cannot fully implement our vision of a community lawyering model in the immigrant justice struggle.  I am grateful for the opportunities I have had working with each of you at SCSJ for the past four years as part of a broader, collective movement at national, state and local levels for dignity for our communities.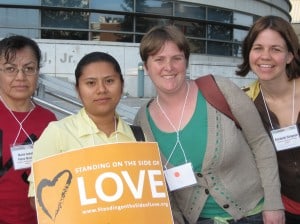 This moment has provided me with an opportunity to explore other models of organizing that I am excited to pursue.   I look forward to continuing working with each of you in new ways, in which I am a volunteer and not a paid organizer currently working in solidarity with* immigrant and all oppressed communities.  This means, you won't stop seeing me around in our movements (except during some daytime meetings).  In particular, I look forward to working with others to build an immigrant's rights movement dedicated to fighting back against the New Jim Crow and criminalization of all people to end walls and cages.  I also wanted to use these few minutes as my soapbox and practice of gratitude.
*http://www.blackgirldangerous.org/2013/09/30/no-more-allies/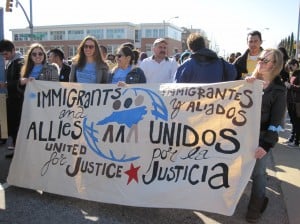 I did want to take a moment though, to be able to reflect on some of the highlights of the past 4+ years.  I have learned much  working together in this state and enforcement environment determined to take away the rights and dignity of immigrant communities and other marginalized people.   I am thankful to all for our work together to build this strength and hope that as we continue to work together that we can remember what we are all capable of:
1)      The emergence of an even more vibrant youth movement in the past 4 years including El Cambio, United for the Dream the NC Dream Team, and NC Heat.
2)      Being a part of hunger strikes, Know Your Rights Trainings, marches, and END campaigns with this new youth energy.
3)      Coming together as a state to welcome the Trail of Dreams to NC and hold an event that brought together economic justice, LGBTQ and immigrants' rights movements.
4)      Marching together over 200 in force in Raleigh to protest the onslaught of SB1070 in 2010.
5)      Marching with FLOC during their annual Shareholders meeting in their ongoing campaign against RJ Reynolds to address abuses faced by Tobacco workers in NC.
6)      Jail solidarity even when we didn't agree on tactics after civil disobedience.
7)      Holding a community storytelling event about abuses that brought together a diverse mix of immigrant community members to talk about xenophobia and Islamophobia.
8)      Building alliances and doing difficult movement building work to seek relationships of trust amongst ourselves as a movement despite struggles.
9)      Being part of the Migrant Trail with NC Heat leader Monserrat Alvarez and sharing our experiences about human rights abuses on the border with our communities at home.
10)   Standing beside members and leaders from El Buen Pastor to denounce abuses by border patrol and seeing their deportations stopped with other communities.
11)   Winning some U Visas against the odds with some fearless attorneys donating their time.
We are strong and we need to keep remembering this as we work through the challenges our movement faces. I will continue to work and stand in solidarity with all in this fight for justice.