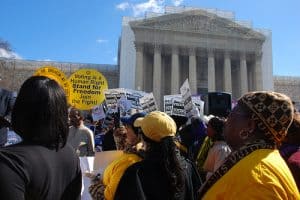 Today Governor Pat McCrory signed an omnibus Voter ID bill into law. Many of the changes in the bill will disproportionately affect the elderly, the poor, and communities of color. Help SCSJ fight back against this reprehensible law that will deny hundreds of thousands of North Carolinians the right to vote! Click here to support SCSJ's work!

Among the voter limitations in this law are the following:
In 2013 and 2014: Photo ID requirements will not be in effect until the 2016 elections. However, both the state and local boards of elections will begin publicizing the new requirement this year. In 2014, voters casting ballots in person during the primary and general election will be reminded of the photo ID requirements coming in 2016 and the fact that free identification cards are available.
In 2016: Starting in 2016, most voters will have to show an acceptable photo ID when they go to the polls. Acceptable forms of ID will be:
North Carolina driver's license
North Carolina special identification card
U.S. passport
U.S. military identification card, as long as it is either not expired or was issued within eight years of the date it is presented.
Veterans identification card, as long as it is either not expired or was issued within eight years of the date it is presented.
A tribal enrollment card issued by a federally recognized tribe or a tribe recognized by North Carolina. The card must either have not expired or have been issued within eight years of the date it is presented.
A driver's license or special identification card issued by another state, the District of Columbia or a territory of the United States if the voter registered 90 days or fewer before the election.
For voters

over the age of 70

: Any of the other acceptable forms of identification, even if expired, as long as the ID was current as of the voter's 70th birthday.


Early in-person absentee voting

Current law: Current law provides for a 17-day early voting window, during which any qualified voter may cast a ballot in person. Eligible voters who are not registered or who have moved may also register or re-register to vote during in-person early voting.
In 2014: The measure shortens the early voting window to 10 days, from the second Thursday before the election to no later than 1 p.m. on the Saturday before Election Day. However, the bill requires counties to "offer the same number of early voting hours in presidential elections as were available in 2012 and an equal number of early voting hours in midterm elections as were offered in 2010."
In short, there will be fewer days on which to cast an early ballot, but there could be additional polling places opened – or existing polling places could be open longer – to offset the loss of days.
The measure also eliminates same-day registration during the early voting period, a process that has been a target of some conservative critics.

More registration changes

The bill makes several other changes to how voters register to vote and when they are removed from voter rolls:
Pre-registration ended: Under current law, 16- and 17-year-olds may pre-register to vote so their names will automatically be placed on the voter rolls when they turn 18. The bill eliminates that pre-registration system, as well as a young-voter outreach program for high schools that had been attached to it. Effective September 2013.
Wet ink required: During previous elections, both Republican and Democratic operatives had used systems that allowed voters to "sign" ballots remotely through a portable electronic device. Changes made by the bill provide "only those electronically captured signatures that are on an electronic voter registration form offered by a State agency are considered valid." Other electronically generated signatures will not be valid unless required under federal military and oversees voting laws.
Voter registration drives: The law eliminates an annual state-sponsored voter registration drive. Outside organizations may still hold voter registration drives, but they are no longer able to compensate workers based on the number of registration forms they collect.
Voter list maintenance: The State Board of Elections is now required to seek out ways to share voter information with other states so that ineligible voters can be purged from the voting rolls. Beginning in October, county boards of elections must create forms to allow relatives of dead people and the representatives of those estates to report that a voter has died so they can be removed from voter lists. The provision streamlines a provision in existing law. Concern about the possibility miscreants might vote in the name of the deceased has been a concern for some elements of the voter integrity movement.

Changes at the polls

Starting in 2014, voters will notice a number of changes when they cast their ballots. In some counties, these will include wholesale changes in voting equipment. For others, the changes will be less noticeable:
Paper ballots: Currently, the state uses two types of voting systems: computerized touch-screen machines and paper ballots on which the voter fills in a small oval to mark candidate choices. In 2018, those computerized touch-screen machines will be outlawed because only systems that "generate a paper ballot or a paper record by which voters may verify their votes before casting them" will be allowed. According to the bill's fiscal note, 36 counties, including Cumberland and Guilford, use touch-screen machines. Replacing those machines will cost $10.9 million, according to the fiscal note.
No straight ticket: Current law allows voters to mark a single space and support all the candidates of one party listed on the ballot. This straight ticket option does not select a candidate for president, nor does it select candidates in nonpartisan races, such as contests for judge. After 2013, the straight ticket option is eliminated.
Wrong precinct: Current rules allow voters who show up to the wrong precinct on Election Day to vote a provisional ballot. Their choices for statewide and countywide offices would count, although their choices for local races in which they were not qualified to vote would be thrown out. After 2013, none of a voter's choices would count if they cast their ballot in the wrong precinct.
Extending hours: Polling places on Election Day are open from 6:30 a.m. to 7:30 p.m. Current law allows county board of elections to extend the poll hours until 8:30 p.m. in "extraordinary circumstances," such as for unusually heavy turnout or if voting was disrupted during the day. Starting in 2014, the bill shifts the power to extend voting hours to the State Board of Elections, allowing the board to order the poll remain open extra time equal to whatever time was lost due to a disruption. The time a poll closes is key because any voter in line at that time may still vote, even if they won't cast their ballot until much later due to congestion. Extending the hours gives voters extra time to get in line.
Poll observers: The law allows county party chairmen to appoint 10 at-large election observers for each polling place in addition to two observers per polling place already allowed by law. Under the new rules, those observers will be given more freedom to move about the precinct, including the ability to closely monitor how election officials check in each voter.
Voter challenges: Starting in 2014, any voter in the state may challenge the registration of another voter anywhere in the state if it is not a primary or general Election Day. That is a change from current rules, which required the challenger be from the same county. On Election Day, a voter may challenge the right of another person to vote if they are from the same county. Prior to 2014, those challenges have had to come from someone registered in the same voting precinct. Reasons for challenging a vote can include a number of grounds, including that the person does not live at the address reflected on his or her voter registration, that he or she has already voted or, in the case of a partisan primary, that he or she belongs to another party. Opponents of this measure say it will "open the door to mass challenges and vigilantes causing trouble at the polls."

Other changes to election rules

House Bill 589 makes a number of other changes to election laws that are hard to categorize but will alter how, when and where voters cast their ballots:
Presidential primaries: Currently, North Carolina holds its presidential preference primary in May, along with primaries for most other offices. Under the bill, North Carolina would hold its presidential primaries – and only its presidential primaries – earlier in the year if South Carolina chooses to hold its presidential primary before March 15. Had this provision been in place in 2008 and 2012, North Carolina's presidential primaries would have moved occurred months earlier. The law requires North Carolina to hold both the Republican and Democratic presidential primaries "on the Tuesday after the first South Carolina presidential primary that year." South Carolina has held its Republican and Democratic primaries on different dates.
Fiscal researchers estimated it will cost the state $4 million to hold an earlier primary election for just president, while holding all other primaries in May. North Carolina's May primary often takes place after the races for each party's presidential nomination have effectively been determined. Backers of the measure argue the state will gain influence from holding a presidential primary before primary contests are settled and could get an economic boost from increased spending in the state by the national campaigns.
Instant runoff: North Carolina had created an instant runoff system to fill appellate court seats that become vacant less than two months before an election. The system requires voters to mark their first, second and third choices for an office, rather than returning to the polls when a candidate obtains only a plurality of the vote. When it was used in 2010, that system met with mixed reviews from voters. House Bill 589 eliminates the instant runoff system for judicial races.
U.S. Senate replacements: When as U.S. senator dies, resigns or otherwise leaves office before the end of his or her term, the governor appoints a replacement. House Bill 589 requires that replacement be a registered voter of the same party that nominated the former senator.
Special elections: Cities, counties and other local governments can call special elections for things like issuing bonds, holding alcoholic beverage referendums or approving tax increases. Under current law, those special elections can occur on primary or general Election Days or any day that isn't within 30 days of those pre-set election days. House Bill 589 requires such special elections to be held only "at the same time as a State, county, or municipal general election." There are exceptions to that requirement, including being ordered by the legislature or the courts to hold a special election at a different time or if the election relates to health and safety.
Candidate withdrawal: Currently, a candidate for public office may withdraw his or her name at any point prior to the close of filing. The new law requires that candidates withdraw prior to the close of business on the third business day prior to the close of filing. This will prevent long-serving, established politicians from filing and then withdrawing their names so a favored subordinate can run unopposed at the last minute.
Read about other voting changes at http://www.wral.com/election-changes-coming-in-2014-2016/12750290/
Please help SCSJ protect the right to vote for every eligible North Carolinian. Donate today! Click here to support SCSJ's work!