The problem stems from some state agencies failing to provide and complete voter registrations despite being required to by law.
A judge recently ordered elections officials to count ballots
cast by people who registered at the DMV but were never added to the voter rolls. In order to do so, here's the process election officials are required to follow for people who show up on Election Day and are not registered to vote: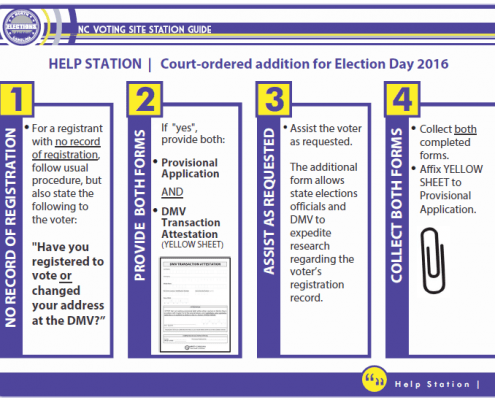 (Click here to view and/print a pdf of this chart)

While elections officials are required to follow this procedure, voters should know that this process is in place and to demand theirs is counted if they registered to vote at a DMV but were not added to the voter rolls.

Voters will also be required to sign a form attesting that they registered to vote at the DMV.

Elections officials should have this form, but you can see the full form and download it by clicking here: http://bit.ly/DMVVoter

If you or anyone you know has a problem voting this election, please call 888-OUR-VOTE to speak to election protection attorneys, anywhere in the country.
Click here to share this post on Facebook so your family and friends will know how to make sure their vote is counted!
[/av_textblock]

[av_textblock size='16' font_color=" color="] On November 8th, there is a chance that thousands of other North Carolinians who show up to their polling place expecting to vote may be turned away or asked to cast a provisional ballot that may never be counted.