At this year's Code for America Summit in Oakland, CA, SCSJ's Ian Mance presented on Identifying Racial Bias in Policing Practices. In 1999 North Carolina became the first state to pass legislation allowing the State Bureau of Investigations to collect traffic stop data from state, city and county police departments.
This massive collection of data was requested by Ian as a law student at the University of North Carolina. To his surprise the data came on a CD drive in the form of a huge text file. The data set proved to be an incredible resource and he was soon contacted by other jurisdictions that wanted to take a look at their local traffic stop information. To keep up with the demand Ian knew the data needed to be compiled into a more user friendly and accessible platform. 
He contacted Colin Copeland of Code for Durham to discuss his idea and the Open Data Policing NC website was born. The primary use of the website is to gather and display NC traffic stop data for all 100 counties and each of the law enforcement agencies within those counties. Everyone from the Greensboro Police Department to the campus police at universities.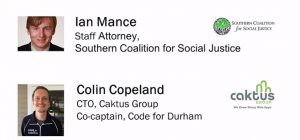 The website's dual purpose makes it a resource for communities and a management tool for police chiefs. The website illustrates specific data sets of Stops, People, and Searches and only the ID numbers of officers. Visitors can easily utilize the website's search feature to research their local police stop data. Users are provided graphs and correlations of how different races and ethnicities are treated in traffic stops.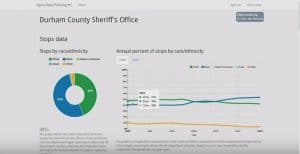 Before the Open Data Policing NC website, huge collections of data illustrating high disparities in traffic stops, consent searches, and the reporting of contraband seized in searches were being collected but no one studied it. Now community based groups, criminal defense lawyers, law enforcement agencies have a incredible tool to bring about improvement in police management. Recently Roanoke Rapids, Chapel Hill, and Greenville used data to start police reforms within their local agencies.
Watch the whole presentation here