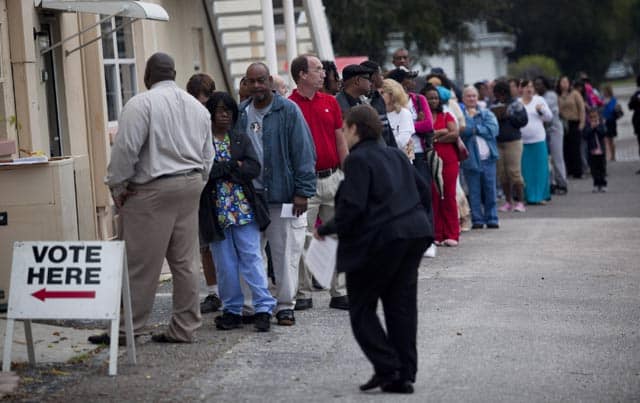 August has been a busy month for SCSJ's voting rights team.
When North Carolina's Governor McCrory signed an anti-voting law considered the most restrictive in the country, SCSJ fought back. We filed a suit in federal court challenging new restrictions on early voting, the end of same-day voter registration, and the elimination of out-of-precinct provisional voting. The following week SCSJ filed a separate lawsuit in state court challenging the Voter ID provision of the bill because it violates the North Carolina Constitution.
When local boards of elections targeted college students, SCSJ responded. We defended Montravias King, the Elizabeth City State University student who was denied the right to run for city council because he lives on campus. Because the residency requirements to run for city council are the same as the residency requirements to vote, this seemingly isolated case in Pasquotank County had the potential to lead to the disenfranchisement of thousands of college students across the state.
When the Watauga County Board of Elections removed an early voting precinct from Appalachian State University, SCSJ and the Lawyers Committee for Civil Rights recommended that the decision be overturned. SCSJ stands with all eligible college students seeking to participate in the electoral process in the town where they go to school.
Unfair redistricting plans that give the votes of suburban voters more weight than that of urban voters may cause turnover in the Wake County School Board that could lead to re-segregation of the entire school system. SCSJ's voting rights attorneys represent eleven individuals and two community organizations fighting the imbalanced redistricting maps that threaten the long-term success of the school district.  We filed suit in federal court to stop the use of districts that violate the one-person, one-vote standard.
While the focus in August has been on voter suppression in North Carolina, SCSJ continues to fight for voting rights across the South. At this time we have voting rights cases pending in Texas, Tennessee, Florida, and Georgia, as well as in North Carolina.
SCSJ stands ready to protect the rights of all eligible voters. But at this critical juncture we need your help more than ever. Without financial contributions from supporters like you, we cannot continue to defend the many challenges to each North Carolinian's right to vote. Please make a one-time or recurring donation today to help SCSJ. Because Voting Rights Matter!