The community has had enough. The Southern Coalition for Social Justice and Durham FADE (Fostering Alternative Drug Enforcement) partnered with community organizations to present and prioritize five recommendations from the Human Relations Commission for the Durham Police Department to decrease discriminatory practices. Representatives from the Durham Congregations in Action, Durham CAN, the Durham Committee on the Affairs of Black People, the Durham People's Alliance, North Carolina Public Defender Association Committee on Racial Equity, the Durham Branch of the NAACP, Action NC, the George H. White Bar Association and Southerners on New Ground met in front of City Hall to speak out against Durham racial profiling.
In special hearings held over six months, the Human Relations Commission heard evidence leading to over 30 recommendations on how to reduce highly racialized enforcement disparities. Today, community organizations partnered with the Durham FADE coalition on five specific policy recommendations to push to the forefront.
1. Mandate written consent forms for all vehicle consent searches
2. Make misdemeanor marijuana enforcement the department's lowest law enforcement priority
3. Implement a policy requiring mandatory periodic review of officer stop data
4. Reform and strengthen the Durham Civilian Police Review board
5. Mandate that the department participate in formal racial equity training.
These organizations came together at a press conference at noon to urge the City Council to act to protect all citizens in Durham from unreasonable and discriminatory searches and seizures as well as ensure that drug laws are enforced fairly. After the press conference, many people when into City Hall for the city council work session. It was packed. People lined the walls. The HRC report was the last item on the City Council meeting agenda. Ricky L. Hart, Chair of the HRC, presented all of the commission's recommendations in the areas of communication, police search and consent searches, training, diversion programs, the citizen police review board, and complaints and internal affairs. Hart also included a few general recommendations.
In summary, Hart read on behalf of the Human Relations Commission, "Based on our research, supported by testimony from Durham citizens, we found the existence of racial profiling present in the Durham Police Department practices."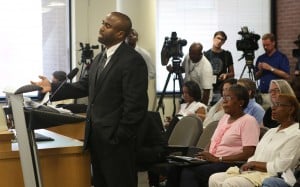 SCSJ's Daryl Atkinson was the second of nine people to speak on the HRC's recommendations. Atkinson presented the five recommendations that Durham FADE and their community partners prioritized along with letters written by Durham CAN, Durham Committee on the Affairs of Black People, the Durham People's Alliance, the ACLU, the George H. White Bar Association, and the Durham Branch for the NAACP.
Gwen Silver followed Atkinson and asked a question that At Large Council Member Steve Schewel echoed: "Where do we go from here?" Time will tell.
Post by SCSJ Troan Intern Evey Wilson