Duke-UNC Initiative on Poverty and Inequality
Summer Fellowship
This is a joint effort between UNC and Duke University to focus on issues of poverty and inequality in Durham and Orange counties. The initiative emphasizes the importance of developing an historical understanding as well as working with local communities to find policy solutions to these persistent problems. This past semester, students from both universities worked with grassroots organizations, political groups, research institutes and local governments to gain a better understanding of the complex nature of poverty in our area. As both counties engage in poverty reduction work, it is important for the universities to play an active role by dedicating resources and student, faculty and staff involvement in these efforts.
This summer, Duke students have the unique opportunity to work alongside UNC students in local organizations focused on combating poverty. Students will engage in fieldwork, grassroots organizing, and research targeted at economic inequality in Durham and nearby communities. This gives students the chance to leave campus and learn the complexities of the areas in which they live. Students will do historical work to give them a baseline understanding of the depth and complexity of issues surrounding inequality. As the main component of the program, they will be paired with an organization that matches their interests and a deep need and desire for student involvement. Many groups in Durham are anxious for young, student perspectives and those with research, analytical and creative skills to help them inform their organizing. This program focuses on facilitating a conversation between the community and the university in order to ensure effective collaboration and best benefit the organization.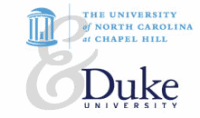 This program is funded by Duke Engage and will function as a Duke Engage independent project for up to three students. The program will last 8 weeks and students will be given the standard Duke Engage stipend. The ideal candidate would have understanding of poverty in the South and previous involvement in the Durham community. We are looking for students with some of the following skills: documentary, writing, research, computer programming, canvassing.
If you are interested please send your résumé and a brief cover letter (a couple paragraphs is fine) detailing any experience that might be relevant for this position to Adrienne Harreveld (alh57@duke.edu) by Jan. 14th.