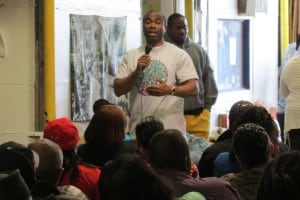 On March 22nd, 2014, a coalition of community partners including the Southern Coalition for Social Justice (SCSJ), Durham Economic Resource Center (DERC), CAARE, Union Baptist Church Career Ministries, The Durham Center for Senior Life and others organized a Clean Slate Clinic. The purpose of this clinic was to screen community members with criminal records to assess eligibility for expungements or Certificates of Relief. These legal services are provided by SCSJ free of charge.
The clinic officially started at 10am, but people showed up as early as 9am. On this warm Saturday morning, over 350 people registered and were screened for eligibility, and many more community members were in attendance. A number of people were able to find out on the spot whether or not they are eligible for Clean Slate services. SCSJ is currently reviewing all of the remaining applications and will be in contact with all participants by Friday, April 4th.
The Clean Slate Clinic served several purposes. It provided justice-involved community members an opportunity to get more details concerning their own criminal record; it was a platform for local service providers to share information about a wide array of services that could be of use to this population, and it served as a forum to organize a disenfranchised population and inform them of their rights and responsibilities as community citizens and justice-involved people.
The focus of the Clean Slate clinic was not simply to mitigate the collateral consequences facing justice-involved residents of Durham County, but to begin to repair the structure of families that have been affected. Incarceration often leads to joblessness, and homelessness, which has an astounding effect on families, particularly in the lives of spouses, parents, and children. The community organizers who hosted the event made sure that families were not just acknowledged, but supported, by providing lunch for those in attendance, and activities to welcome the children. George O'Briant, a case manager with the Durham Criminal Justice Resource Center was in attendance this past Saturday. He described the event as feeling like a "Family reunion". This is an apt description, as justice-involved attendees, and community members from several organizations came out to the clinic, unaware of the fact that they would be reuniting under this common cause. We at SCSJ look forward to continuing to partner with the community in this important work.