SCSJ has joined #GivingTuesday, a first of its kind effort that will harness the collective power of a unique blend of partners—charities, families, businesses and individuals—to transform how people think about, talk about and participate in the giving season. Coinciding with the Thanksgiving Holiday and the kickoff of the holiday shopping season, #GivingTuesday will inspire people to take collaborative action to improve their local communities, give back in better, smarter ways to the charities and causes they support and help create a better world. Taking place December 2, 2014 – the Tuesday after Thanksgiving – #GivingTuesday will harness the power of social media to create a national moment around the holidays dedicated to giving, similar to how Black Friday and Cyber Monday have become days that are, today, synonymous with holiday shopping.
"#GivingTuesday is a counter narrative to Black Friday and Cyber Monday because it reminds us that the spirit of the holiday giving season should be about strengthening community," said Anita Earls, Executive Director of the Southern Coalition for Social Justice. "The most meaningful gift we can give our children, loved ones, friends and neighbors is the commitment to work together to help build a more socially just world."
And thanks to a generous donor, all donations made from Tuesday, December 2 through Tuesdday, December 9 will be doubled. Now is your chance to invest in your community – and have that investment doubled!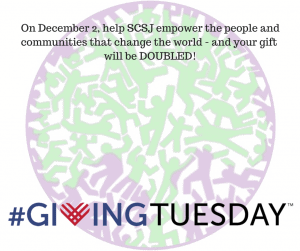 Those who are interested in joining SCSJ's #GivingTuesday initiative can visit http://www.razoo.com/story/Giving-Tuesday-Scsj. For more details about the #GivingTuesday movement, visit the #GivingTuesday website (www.givingtuesday.org), Facebook page (https://www.facebook.com/GivingTuesday) or follow #GivingTuesday (https://twitter.com/GivingTues) and the #GivingTuesday hashtag on Twitter.
Want to help SCSJ even more? Once you've clicked here to donate, send a message out on Twitter or Facebook letting people know why you're supporting our #GivingTuesday campaign!