The Alamance County Board of Commissioners voted unanimously Monday to pass a resolution urging the North Carolina General Assembly to provide funding for a public defender's office, as well as an additional district court judge seat, for the state's 15th largest county.
The Board of Commissioners, which consists of five Republican members, expressed their hopes that Senate Republicans provide the necessary funding into the state budget after the House GOP neglected to do so before sending their proposal to the Senate
"I think we as a county board have to show our resolve and ask that they add that back into the budget," said Chairman John Paisley. "If not, we have no chance in my opinion."
According to the commissioners, Alamance County has been identified as the top county of North Carolina's 100 counties in need of both a public defender's office and additional judge. They said there is a severe shortage of lawyers who are able and willing to take court-appointed cases for people who cannot otherwise afford to hire their own attorney. In fact, there are only four attorneys in the whole county who will take on serious felony cases, which has resulted in increasingly long wait times in the county jail.
"Defendants moving through the process require both a prosecutor and defense to work somewhat together to efficiently move those through the process and if any one of those is not efficient then defendants sit in jail for an extended period of time, and we just don't need that, for a lot of reasons," said Commissioner Craig Turner. "If any of those are not efficient then defendants sit in jail."
Vice Chair Steve Carter spoke about those wait times and said he's been told that there are a number of people sitting in the Alamance County jail simply because they can't afford to post bail and can't connect with their court-appointed attorney.
"I've been told that we have a number of people that have been incarcerated longer in some cases for waiting for a trial than they might have been if they'd been convicted," Carter said at the meeting. "That needs to be fixed and I hope this is an option we have that might fix it." 
You can watch a recording of the meeting here.
Despite nearly universal agreement that public defender offices are the most effective and cost-efficient way to protect individuals' constitutionally-protected rights to an attorney when facing a criminal charge, public defender offices cover less than half of North Carolina's 100 counties; the other areas are covered by private attorneys who take on court-appointed cases for very low rates paid by Indigent Defense Services (IDS). According to IDS, however, there are 48 counties with fewer than one attorney per 1,000 residents, resulting in "attorney deserts" where there are not enough attorneys available to cover the existing cases.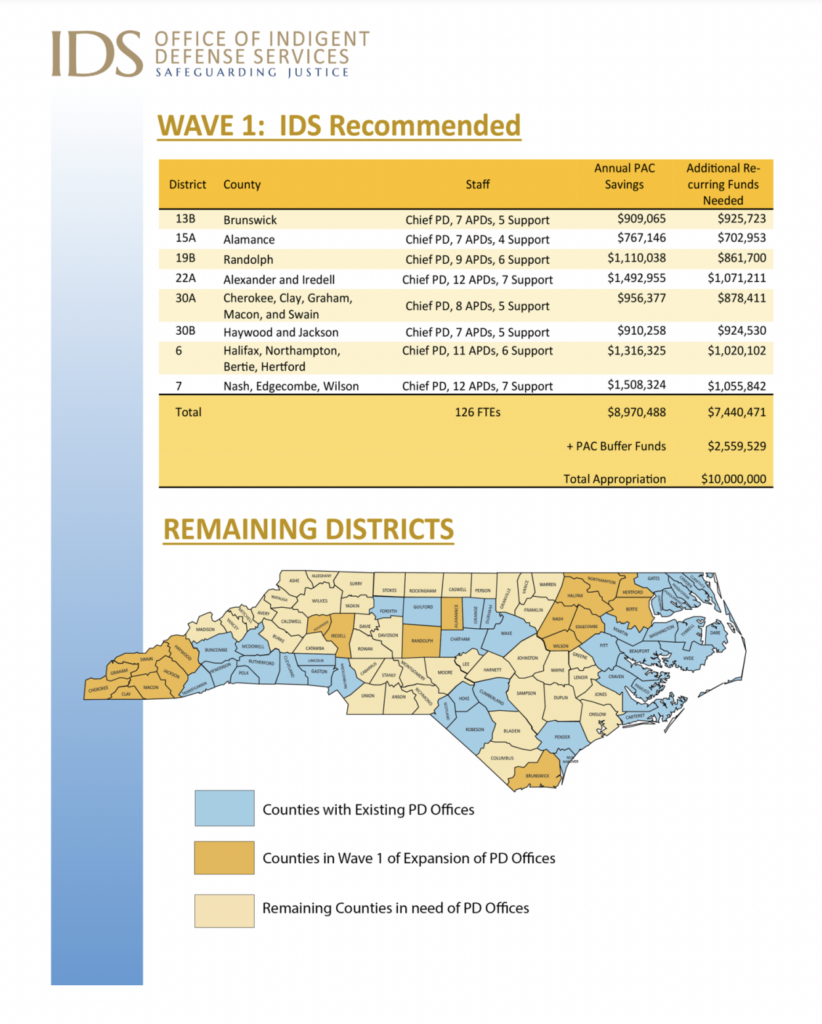 IDS requested $10 million in the 2023-2025 biennium to expand public defender's offices into 10 judicial districts across the state. Public defender offices have been found to be the best way to offer indigent defense services in a district because they keep court schedules timely; specialize in the issues around indigent defense; provide support, training and mentorship; and provide an attractive workplace for attorneys who don't want to run their own business.
In addition to the Board of Commissioners, Alamance County Sheriff Terry Johnson and Alamance County District Attorney Sean Boone have expressed support for a public defender office.
Commissioner Pamela T. Thompson, whose her husband worked as a criminal defense attorney, said she has been talking about the need for a public defender's office in Alamance County for a long time.
"I am 100% for the public defender's office; it's a no brainer because they need a level playing field, they need their own detective, staff," she said. "Defense attorneys are one man shows and it is a lot to run 150-plus cases on you all the time."
Thompson expressed some concern that the resolution would rely on a new courthouse being built in Alamance — a proposal she is against, she said — but her colleagues assured her it was not dependent on the expansion.
"We've got to find a way to take care of our citizens, all of our citizens — the ones that are in jail, the ones that aren't — and do it as efficiently and cost-effectively as we can," Carter said.
According to Chairman Paisley, the Commission intends to make their unanimous support known far and wide.
"We just don't have enough attorneys sitting out there that are willing to be on the court-appointed list to fill that desperate need," he remarked. "We'll send [the resolution] to the state. We'll send it to each of our representations; spread it as far and wide as we can on the state level, asking for help. It's not up to us, guys, it's up to the state representatives."
See the full resolution below passed by the Board below.
Alamance-PD-resolution