The Southern Coalition for Social Justice (SCSJ) is proud to welcome attorneys Dave Hall and Bethan Eynon to work in our Clean Slate Program. Their positions were made possible Employment Opportunity Legal Corps Fellowships, funded by Equal Justice Works and AmeriCorps. As Employment Opportunity Legal Corps attorneys, Dave and Bethan will exclusively focus on improving the employment opportunities and outcomes of people with criminal records via tools such as Certificates of Relief, Expungements, Driver's License Restorations, and Professional License Restorations.
Bethan Eynon comes to SCSJ from a 2-year fellowship with the UNC Center for Civil Rights. In law school, her volunteer work with the Driver's License Restoration Project helped her realize the barriers that exist to keep people with criminal records from fully participating in society. Now, having been a Community Inclusion Fellow for the past two years, she is excited at the opportunity to represent individuals with reentry issues while working within the community lawyering model.
Dave Hall comes to SCSJ from private practice as a criminal defense lawyer. He has been involved in social justice work since law school. After law school he continued to volunteer at expunction clinics with Legal Aid, Social Justice Education, the FADE Coalition, and SCSJ Clean Slate Clinics. Dave is proud of the work he has done in the local Durham community. He is a team player with a proven track record of social justice, community based lawyering. As a "Clean Slate" attorney Dave looks forward to providing legal relief and employment opportunity to formerly incarcerated people throughout North Carolina.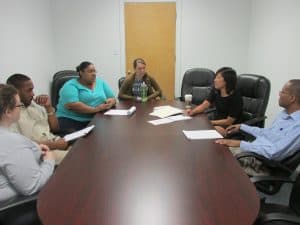 "We are extremely pleased to extend the capacity of our Clean Slate program through the addition of Bethan and Dave," said SCSJ Senior Staff Attorney Daryl Atkinson. "With their help, we can serve more North Carolinians struggling to find employment, housing, and education opportunities because of a criminal conviction."
Post by SCSJ Deputy Director Shoshannah Sayers