The Youth Justice Project (YJP) envisions a future in which young people of color attend schools that lift them up, not pat them down; live in communities that follow their lead, not suppress their voice; and are served by governments that invest in their future, not their incarceration. We believe in a world where no child is criminalized and all Black and Brown youth receive the education and support necessary to thrive in their full dignity.
We believe all youth:
Possess value, potential, and unique strengths and needs;
Are fundamentally different from adults, and should be treated as such;
Are rights-bearing persons who should be meaningfully involved and heard in matters affecting them;
Deserve to be free of racism, classism, sexism, xenophobia, homophobia, transphobia, ageism, ableism, and other forms of discrimination;
Deserve supports and services necessary to be healthy, well-educated, safe, and economically secure;
Deserve systems and communities that are warm, welcoming, loving, caring, and safe;
Deserve laws, policies, and practices impacting them to be based on research, data, and principles of cooperation and positive youth development, not based on profit, competition, and control;
Deserve a high-quality education that enables them to both develop skills and knowledge and become critical, courageous, creative thinkers in a self-governing democracy; and
Should be protected and rehabilitated when they encounter the juvenile and criminal systems.
Invest In Our Children, Invest In Our Youth: Ending Youth Criminalization in North Carolina
Invest In Our Children, Invest In our Youth: Ending Youth Criminalization in North Carolina calls for a reinvestment in community-led alternatives that support and nourish young people and their communities.
This report follows a divest/invest framework, which brings attention to the choices that resource a misguided and racist system as we call for an investment in community-led initiatives that prioritize and support the healthy development of young people.
#LiberateToEducate
The Youth Justice Project wants Durham Public Schools to end the school-to-prison pipeline by removing police, ending exclusionary discipline, liberating the school environment, implementing culturally relevant curriculum, and establishing mental health spaces and safe spaces for LGBTQIA+ youth at every school.
The over-policed school atmosphere can initiate, rather than alleviate, misbehavior by increasing anxiety, alienating students, creating a sense of mistrust between peers and forming adversarial relationships with school officials.
We want a liberated school environment where students from marginalized communities have the freedom to determine their educational experience while feeling safe, loved, and supported.
#CounselorsNotCops Wake County
Students, parents and community members are united in the call to remove all school resource officers (SROs) from Wake County Public School System (WCPSS) schools. Instead of policing students, WCPSS must fully implement a Peacebuilder Program that employs community "Peacebuilders" in every school to build positive relationships with students, implement restorative practices and peacefully address interpersonal conflicts.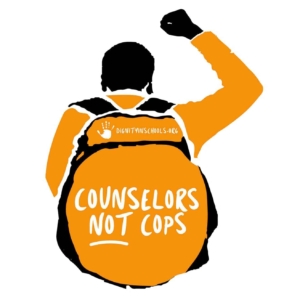 Decriminalize Student Behavior
School policing and student criminalization are linked to a long history of racial oppression, extending the arms of Jim Crow into modern classrooms. In addition to ending exclusionary discipline practices that remove students from their learning environment, we must eliminate laws and policies that criminalize students for schoolyard behaviors. This includes statutes that make it a crime to disturb school, citations that often require the payment of fines and fees, and policies that provide school police officers with the discretion to address disciplinary matters as crimes. Doing so will drastically decrease the number of Black and Brown youth funneled into the school-to-prison pipeline and help create positive school climates for all students.
Remove Law Enforcement from Schools
Black and Brown students disproportionately interact with metal detectors, school resource officers, surveillance cameras, and random drug searches as a routine part of their school day. Yet, there is no research to suggest that increasing law enforcement and surveillance in schools makes students safer. In fact, the increased presence of police officers in schools has been linked to increases in school-based arrests for minor behaviors and negative impacts on school climate.
School districts and local law enforcement agencies must ensure that police officers are only called into schools as an instrument of last resort, and that schools are prohibited from sharing student information with local law enforcement agencies and Immigration and Customs Enforcement (ICE). This can be achieved through policies that eliminate the regular presence of police officers on campus and place limits on requests for police assistance.
Create Mechanisms for Student and Parent Decision-Making Authority and Oversight
In order to hold school districts and law enforcement agencies accountable for their role in ending the school-to-prison pipeline, we must create mechanisms that provide the communities who are most affected by the school-to-prison pipeline with the ability to make policy decisions and hold government officials accountable. This includes the ability to:
Impact annual school budgets;
Access and review school discipline and policing data disaggregated by race, gender, offense, age and school;
Create and revise school policies;
Access to user-friendly school complaint systems without the threat of retaliation or being targeted by school officials or law enforcement; and
Community-based review of complaints against school officials or school police that maintain student confidentiality.