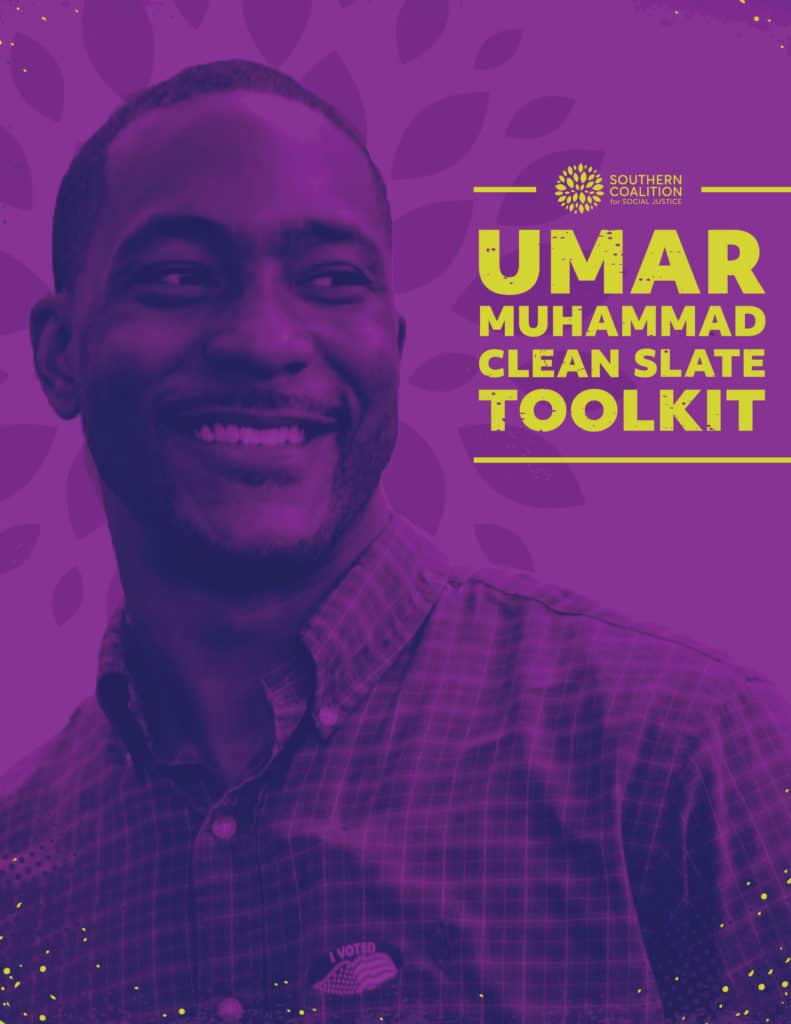 For media inquiries:
Michelle Rash
mrash@rlfcommunications.com
336-553-1733 (office)
336-823-5501 (mobile)
Durham, N.C. — The Southern Coalition for Social Justice has launched a new effort focused on helping individuals with criminal records better navigate the process to have their records expunged. At the center of this outreach is the Umar Muhammad Clean Slate Toolkit, a free resource providing a step-by-step guide to the expunction process. With a typical criminal record expungement costing between $1,500 and $2,000 in court costs and attorney's fees, the toolkit is designed to help individuals navigate the process independently, making expunctions easier to obtain for people of color and economically underserved populations. In the coming weeks, a video tutorial and webinars on the process will also be made available.
The Southern Coalition for Social Justice's new outreach around the expunction process comes in advance of changes to related North Carolina's laws, which take effect Dec. 1. The toolkit is named after Umar Muhammad, a former community organizer with Southern Coalition for Social Justice who organized numerous Clean Slate Clinics across North Carolina.
Since 2012, more than 60,000 North Carolinians were forced to navigate the expungement process despite the fact that their charges did not result in a conviction. More than 90% of employers require criminal background checks, and a job applicant with a criminal record is 50% less likely to receive an interview, making it hard for individuals to find employment. Additionally, more than 1,000 state laws and regulations potentially deny North Carolinians with a criminal record a variety of privileges and rights.
"People with criminal records have significantly fewer options for employment and housing as well as limited opportunities to secure a better life for themselves. And, as with so many things in our society, people of color or who are already economically vulnerable are disproportionately impacted," said Chantel Cherry-Lassiter, Counsel for Justice System Reform with the Southern Coalition for Social Justice. "Our hope is this toolkit, and the other resources we are creating, will provide valuable support and solutions to underserved groups of people at this critical time."
The Umar Muhammad Clean Slate Toolkit also includes recommendations on how North Carolina's expungement process could be made more accessible to people of color and economically vulnerable communities. The recommendations include:
Expanding the list of charges that can be expunged to include all misdemeanors
Providing at least one expungement advocate to assist in the process in each county court
Speeding up the process so it no longer takes between 6 to 12 months, allowing people to obtain employment faster
Eliminating the $175 expungement processing fee and waiving the requirement that all other fines and fees must be paid before an expunction is sought.
###
The Southern Coalition for Social Justice
The Southern Coalition for Social Justice, founded in 2007, partners with communities of color and economically disadvantaged communities in the South to defend and advance their political, social, and economic rights through the combination of legal advocacy, research, organizing and communications. Learn more at southerncoalition.org and follow our work on Twitter and Facebook.