The Southern Coalition for Social Justice is gravely concerned about North Carolina House Bill 786. This proposal would offer a limited driving permit to unauthorized immigrants who meet the bill's strict requirements, at the same time that it would implement harsh anti-immigrant measures, including the racial profiling provision of Arizona's SB1070. SCSJ is part of the We Are NC Coalition, which held community forums across the state to gain input on this bill. After hearing from over 750 immigrant community members across the state about this proposal, SCSJ heard too many voices affirming that HB786 is wrong for North Carolina.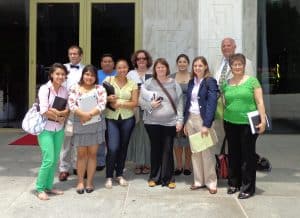 HB786 combines elements of the worst anti-immigrant legislation supported by the far-right for a decade, in a clear attempt to drive a wedge between "good" and "bad" immigrants. These anti-immigrant measures include:
• allowing law enforcement to interrogate about immigration status if a person "appears" undocumented during routine stops
• mandating undocumented immigrants to reimburse the state the cost of their own incarceration
• denying bond to undocumented immigrants for certain charges, even if the person is not a flight risk
• impounding vehicles of drivers without a license, restricted driving permit, or proof of insurance
• restricting state agencies from accepting consular-issued IDs, such as the Matricula Consular, to establish identity
Although immigrants who qualify for the restricted driving permit would have a buffer from certain sections of HB786, immigrants who do not qualify will be subjected to harsher enforcement measures than those already in place in North Carolina. Those who would not qualify for the restricted driving permit are people who are already most vulnerable, including low income immigrants who cannot afford to prepay a year's worth of car insurance as the proposal demands, migrant farmworkers who could not meet the one year residency requirement, newly arrived immigrants who would not meet the proof of residency, and those with criminal records. The racial profiling and car impoundment provisions would reach beyond the immigrant community, and impact economically disadvantaged people and communities of color regardless of immigration status.
We welcome legislation that provides undocumented immigrants with much needed licenses, including like HB 915 "Road Safety Through Drivers License Access" and SB 622 "Drivers Licenses for ITIN Holders". Driving privileges should not be predicated on communities being forced to cede their constitutional and human rights. This proposal, despite an enticing carrot, is another attack by the NC General Assembly on the rights of the state's most vulnerable and we will follow the community's lead in saying no.