DURHAM, NC (November 8, 2023) – European Union diplomats and human rights advocates gathered at Southern Coalition for Social Justice's (SCSJ) new offices last week to meet with stakeholders about ending the death penalty in North Carolina.
The event — in which delegates met with law enforcement from across the state and individuals impacted by the death penalty — was part of a larger visit by the delegation to add their support to ongoing calls to end the state's use of the death penalty and to specifically encourage Gov. Roy Cooper to commute North Carolina's 138 death sentences to life sentences.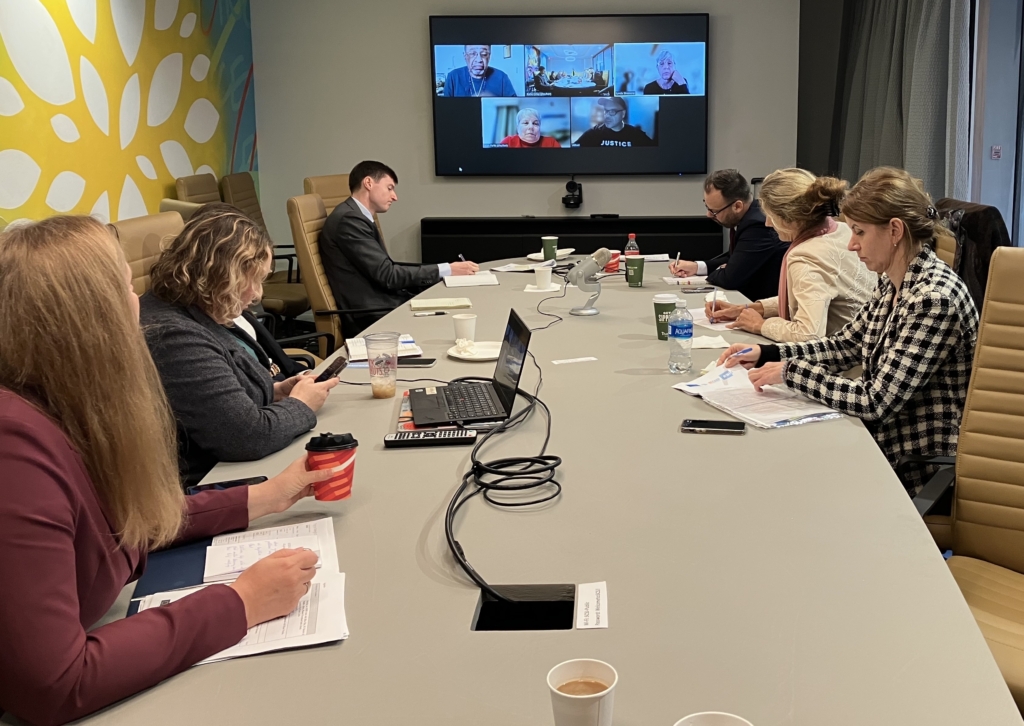 The delegation, which included representatives from Belgium, the Czech Republic, Estonia, France, Germany, Lithuania, the Netherlands, Norway, Portugal, Romania, and Switzerland, also met with government officials, law enforcement, business, and faith leaders in their effort to make North Carolina a safer and more equitable place to live and work. In addition, they co-hosted a screening of the film "Love Lived on Death Row" with the North Carolina Coalition for Alternatives to the Death Penalty (NCCADP) and the Responsible Business Initiative for Justice at the Duke.
"The death penalty is one of the most ineffective, wasteful, and deeply flawed public policies we have in North Carolina," said Jake Sussman, Chief Counsel of Justice System Reform at SCSJ. "It is inescapably infected by racism and does nothing to actually protect people. Hearing the perspectives and experiences of the EU delegation, and how each of their respective countries successfully moved away from the death penalty, was illuminating and inspiring. North Carolina can and should end the death penalty now."
By commuting the sentences of those on death row, Governor Cooper can address the systemic disparities in the capital punishment system.
There are 137 people currently on North Carolina's death row, and another was sentenced to death in the state just last week. While Black people constitute just 22% of the state's population, they make up more than half the individuals on death row. Twelve people have been exonerated following being sent to North Carolina's death row, 11 of them men of color.
SCSJ is a member of the NCCADP and actively works to end the use of the death penalty in North Carolina. SCSJ is proud to not only fight to end this draconian practice, but to serve as a meeting place and facilitator for advocates across the globe to hold meaningful conversations about how to end executions everywhere.
For anyone interested in joining the movement or learning more, people from across North Carolina are gathering at 1 p.m. December 2, 2023, to rally to demand commutations across the street from the Governor's Mansion (200 E Jones St). There will be a brief program of music and speeches and an opportunity to connect with others in the state seeking justice. Read more about the event and register to attend here.