On Saturday, Feb. 8, thousands of people from all walks of life who oppose a regressive vision for the state will gather for the Moral March on Raleigh.
It could be one of the largest civil rights demonstrations in the South in 50 years.
A broad coalition brought together by the North Carolina NAACP will take the next step in the Moral Monday movement this Saturday. We're proud to join with our partners and friends from NAACP and other groups across the state in saying "yes" to progress and "no" to taking our state backward.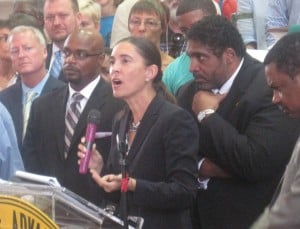 If you're coming from out of town and need a ride or if you know someone who does, you can find buses headed to Raleigh at http://www.hkonj.com/buses. There is also important logistical information about parking, etc. at this link.
This Moral March will be a historic event for North Carolina, and we want you to be part of it. We will assemble at 9:30 a.m. at Shaw University and march on the capital at 10:30 a.m. on Feb. 8. You can RSVP on Facebook here.
There will be interpretation to Spanish available at the event.
Don't miss this critically important opportunity to unite and send a message: We're moving forward, and we're doing so together.
You can read media coverage leading up to the event below.
HUFFINGTON POST: Raleigh is Ground Zero for Families