03/24/14: Thank you to everyone that helped make Saturday's Clean Slate Clinic a huge success! We were able to screen over 350 community members, and will be following up this week to let people know whether they are eligible for Clean Slate services. As one attendee noted, "it was like a family reunion" – community members coming together to make a better life for themselves, their families, and their community. A huge thanks to DERC for making their space available to us, and to CAARE, Union Baptist Church Career Ministry, the Durham Center for Senior Life, and other community partners for making this event an unprecedented success.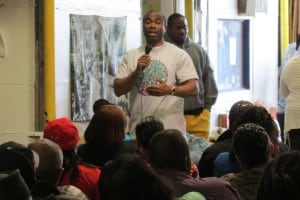 _______________________________________________________________________________________________________

Do you have a criminal record?  Has your criminal record held you back from getting a job?  There will be a "Clean Slate" Clinic this coming Saturday to help people find resources following a conviction.  Stop by to see if you are eligible to clean up your record.  Attorneys will be on hand to speak with you directly.
Other services available at the event include career counseling and affordable healthcare access.
There is no age limit.  There will be free food and free parking at the Durham Center for Senior Life.  Children are welcome, and appropriate activities will be available to entertain them.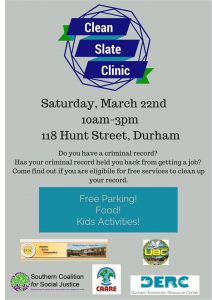 Saturday, March 22
10AM – 3PM
Durham Economic Resource Center (DERC) Distribution Center  
118 Hunt Street at Mangum Street
Durham, NC

For more information, please contact the Southern Coalition for Social Justice at 919-323-3380 x 155. Click here for a printable event flyer.