The Durham FADE coalition is participating in an ongoing dialogue with the Durham Police Department regarding data showing the use of racial profiling in police stop-and-search and marijuana arrests. As part of this movement, today two SCSJ attorneys, Soros Justice Fellow Ian Mance and Criminal Justice Reform Staff Attorney Daryl Atkinson, spoke at the Durham Police Department's CALEA (Commission on Accreditation for Law Enforcement Agencies) certification hearing. Mance and Atkinson presented testimony about the ongoing racial profiling engaged in by Durham police officers, which runs counter to CALEA's goal of non-biased policing. Attached is Mance's CALEA testimony.
Below are maps showing the racially polarized nature of marijuana arrests by the Durham Police Department, which were also presented as evidence at today's hearing. SCSJ continues to partner with the FADE coalition to bring a stop to racially disparate policing practices in Durham. (Click on each map to enlarge for better viewing.)
Here are the primarily African-American neighborhoods in Durham.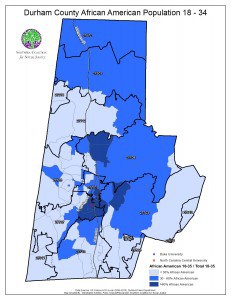 Here are the areas where marijuana arrests in Durham occur.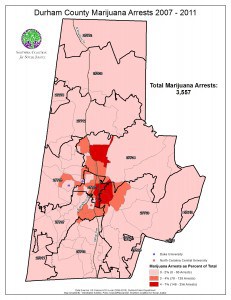 Here are the two layers combined.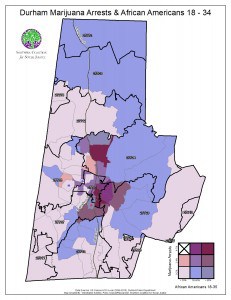 Data analyzed by SCSJ's Chris Ketchie and Ian Mance shows that, much like marijuana arrests, police decisions to search the vehicles of people stopped for speeding and other minor traffic violations have highly racially disparate outcomes. SCSJ's data has been used by the FADE coalition to argue that police in Durham have a pattern and practice of racial profiling that needs to be addressed and halted.