#CounselorsNotCops
Wake County
To watch with English subtitles: click CC icon so red line appears underneath
Para subtítulos en español, haga clic en el ícono CC. Luego haga clic en Configuración y seleccione Español.
ConsejerosNoPolicías: Peacebuilders y demandas de la junta escolar – Para subtítulos en español, haga clic en el ícono CC.
Students, parents and community members are united in the call to remove all school resource officers (SROs) from Wake County Public School System (WCPSS) schools. Instead of policing students, WCPSS must fully implement a Peacebuilder Program that employs community "Peacebuilders" in every school to build positive relationships with students, implement restorative practices and peacefully address interpersonal conflicts.
For years, students and parents have demanded an end to the WCPSS's harmful and discriminatory school policing practices. In 2014, students and advocates filed a complaint with the Civil Rights Division of the United States Department of Justice against WCPSS and multiple local law enforcement agencies. The complaint highlighted years of discrimination and criminalization of Black students for minor, age-appropriate behavior and of students with disabilities for actions associated with their disability. In 2018, WCPSS entered into a voluntary agreement with the Office of Civil Rights, agreeing to revise discipline policies, expand restorative practices and reduce unnecessary referrals to law enforcement. However, two years later, the district continues to criminalize Black students at alarmingly disproportionate rates.
Following the brutal murder of George Floyd and Raleigh Police Department's violent response to peaceful protestors, students and parents have renewed their demand for justice and police-free schools. The same officers terrorizing peaceful protestors are disproportionately targeting, arresting and criminalizing Black and Brown students in WCPSS schools. WCPSS must follow the lead of courageous school boards throughout the county by removing police from schools and investing in alternatives to policing that create supportive and nurturing environments for all students.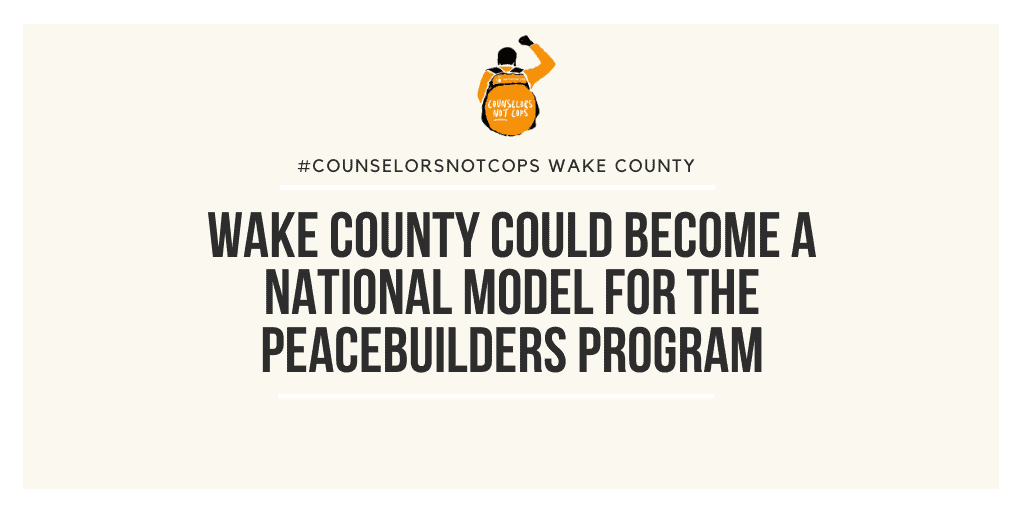 Building Peace In Wake County Schools
A Proposal To Replace School Resource Officers With Peacebuilders
Building Peace in Wake Coun… by Youth Justice Project
Infographics
Learn about policing in Wake County Public Schools and join our #CounselorsNotCops movement by sharing these infographics.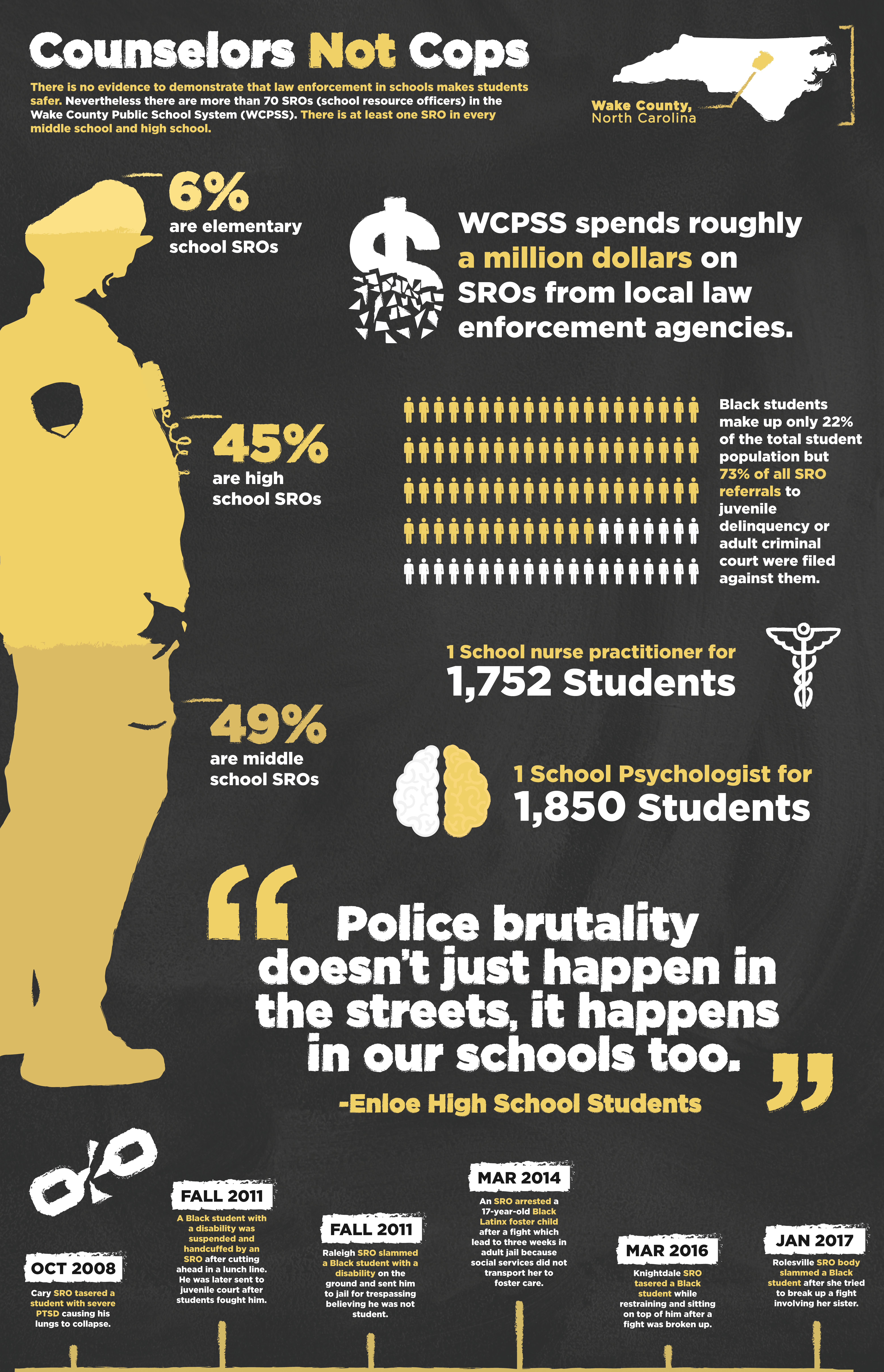 Frequently Asked Questions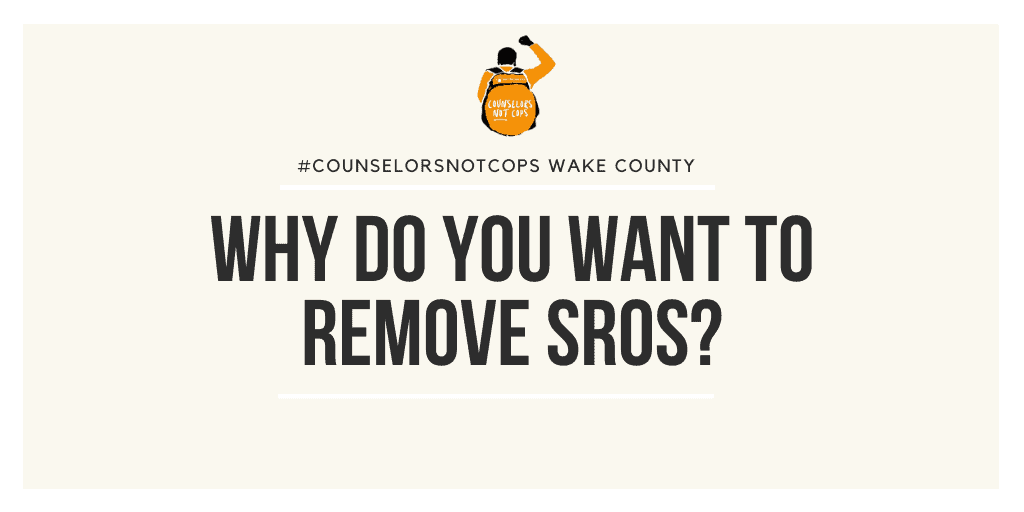 The increased presence of school security, including police officers known as school resource officers or SROs, has been associated with increases in suspension and expulsion for Black students and greater discipline disparities between Black and White students.
In the 2018-2019 school year, Black students represented only 22% of Wake County Public Schools student enrollment, but were 73% of school-related complaints to the youth justice system.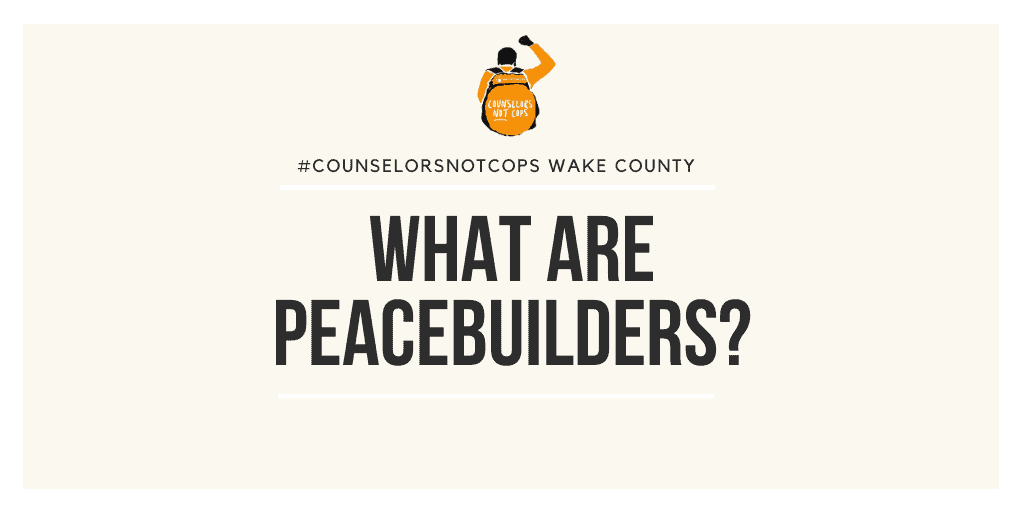 A Peacebuilder is an interventionist that identifies the strengths and potential of young people and their families.
Peacebuilders help create positive school climates by facilitating safe, nonjudgmental, transformative justice circles that help students learn social and emotional skills, understand how their behavior affects others, and take responsibility for their actions. Additionally, Peacebuilders utilize de-escalation techniques to address immediate safety concerns instead of threatening students with physical force, arrest, and incarceration.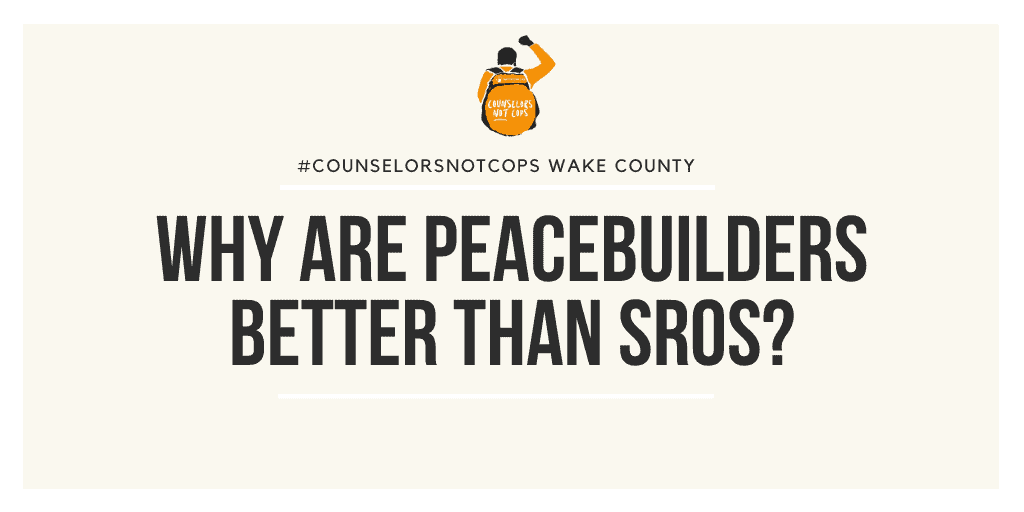 Peacebuilders' success is measured by the number of positive relationships established, conflicts solved, lives saved, and students kept out of the justice system.
The success of SRO programs is often measured by how many arrests have been made or how many citations have been given, not by an actual reduction in crime.
Call to Action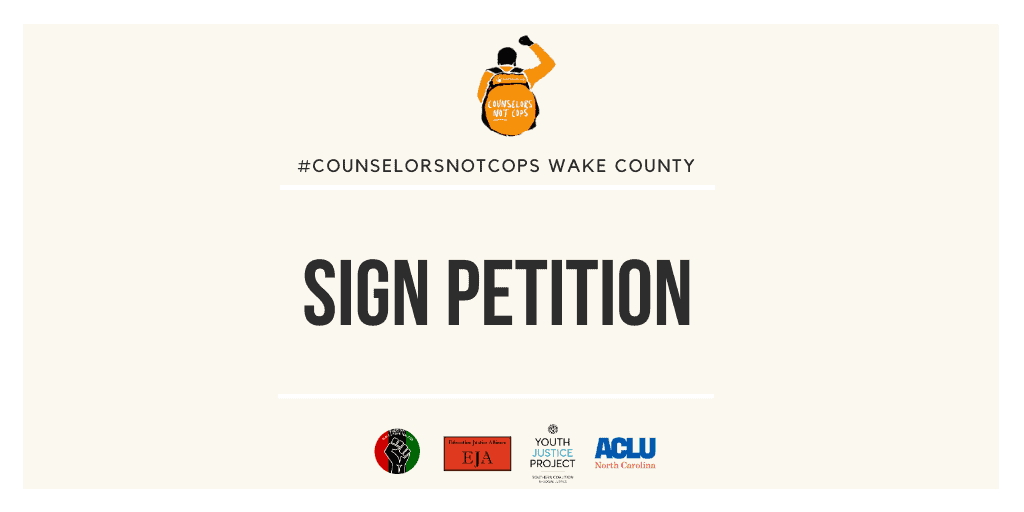 Police brutality must end in the streets and in the classrooms. Join with over 6,000 others who stand with Enloe High School students wanting the removal of police officers from Wake County Public Schools. Sign this petition to make schools safer for all. Each signature is an important step towards the students' goal of 7,500 signatures!
Change.org Petition to Remove SROs from Wake County Schools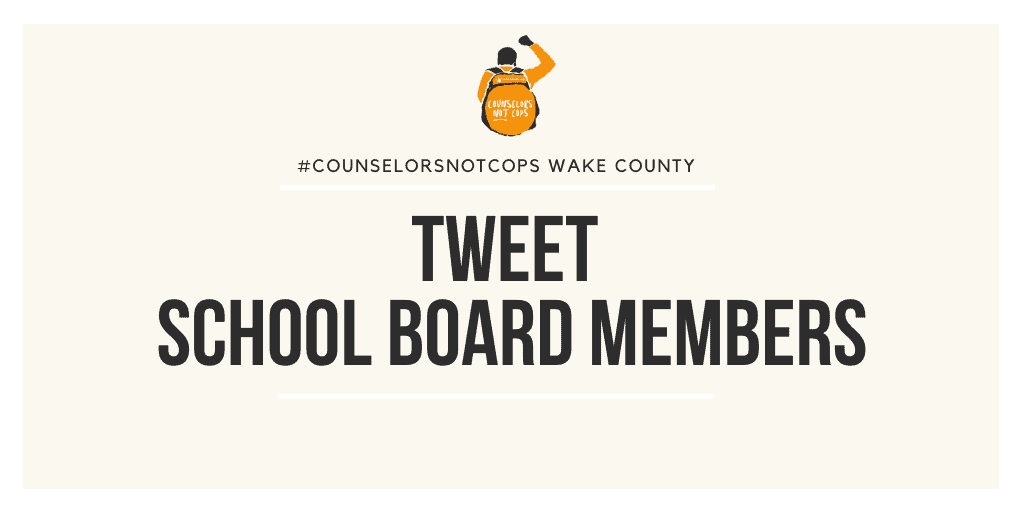 Tweet this message to Wake County School Board Members:
Police brutality doesn't just happen in the streets, it happens in our schools too. I stand with Enloe High School students who want #CounselorsNotCops in Wake County to end the harassment and targeting of Black and Brown youth. http://chng.it/CCVp7MHJpj
Wake County School Board Member Twitter Accounts
Heather Scott (District 1): @HeatherForWake
Monika Johnson-Hostler (District 2): @Monika4Congress
Roxie Cash, Vice Chair (District 3): None – send an email instead!
Keith Sutton, Chair (District 4): @votekeithsutton
Dr. Jim Martin (District 5): @JMartin4Schools
Christine Kushner (District 6): @Christine4Wake
Chris Heagarty (District 7): @HeagartyWCBOE
Lindsay Mahaffey (District 8): @Lindsay4Wake
Karen Carter (District 9): @Karen4wake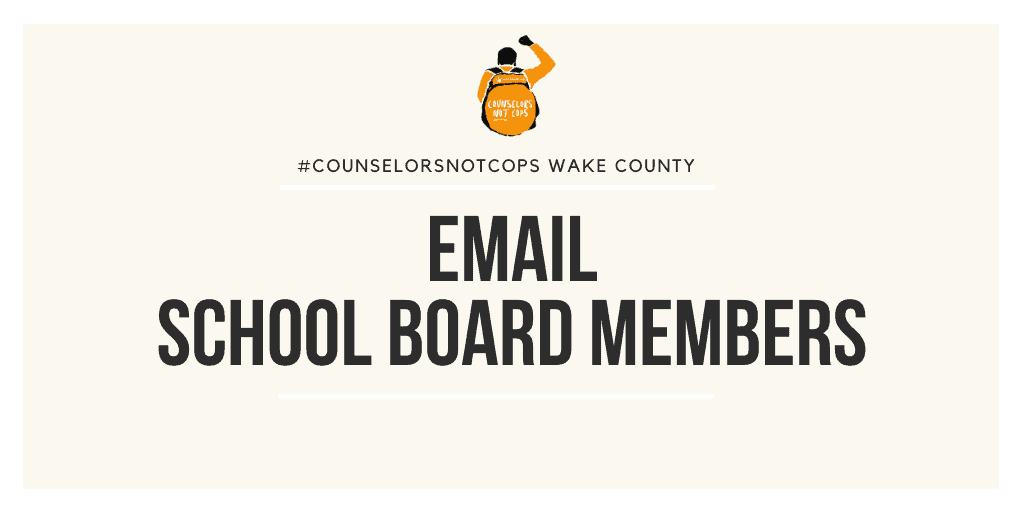 We need your support to stand in solidarity with Black and Brown students who are disproportionately harmed by SROs. Tell school board members to remove all police officers from Wake County Public Schools! Use the template below or personalize the message for an even stronger statement.
Email this message to Wake County School Board Members
SUBJECT: Remove Wake County SROs to Keep Students Safe
Dear [School Board Member Name],
I join with Enloe High School students Jasmin Loraine Benas, Srivani Edupuganti, Teya Franks, and Reagan Razon as well as over 6,000 others who signed a petition by the Enloe students demanding the removal of Wake County school resource officers (SROs). The same Raleigh police officers who use violent force against peaceful protesters should not be in our schools.
I want a future where all students are treated with dignity, love, and respect. But with police officers in Wake County schools, Black students have 73% of school-related delinquency complaints despite representing only 22% of the student population. I am concerned that school resource officers are funneling Black and Brown students toward the school-to-prison pipeline. Wake County Public Schools should follow Minneapolis in a Board of Education vote to terminate all law enforcement contracts.
Instead of paying for SROs, Wake County Public Schools should reallocate funds toward preventive programs and alternatives to criminalization. This includes fully-staffed, school-wide restorative justice initiatives; community peacebuilders; social workers; physical and mental healthcare professionals; other resources to support families and community members as determined by them.
I stand with the Enloe High School students as well as the Southern Coalition for Social Justice and Education Justice Alliance. I want #PoliceFreeSchools so all Wake County students feel safe.
Sincerely,
[Your Name]
Wake County School Board Member Contact List