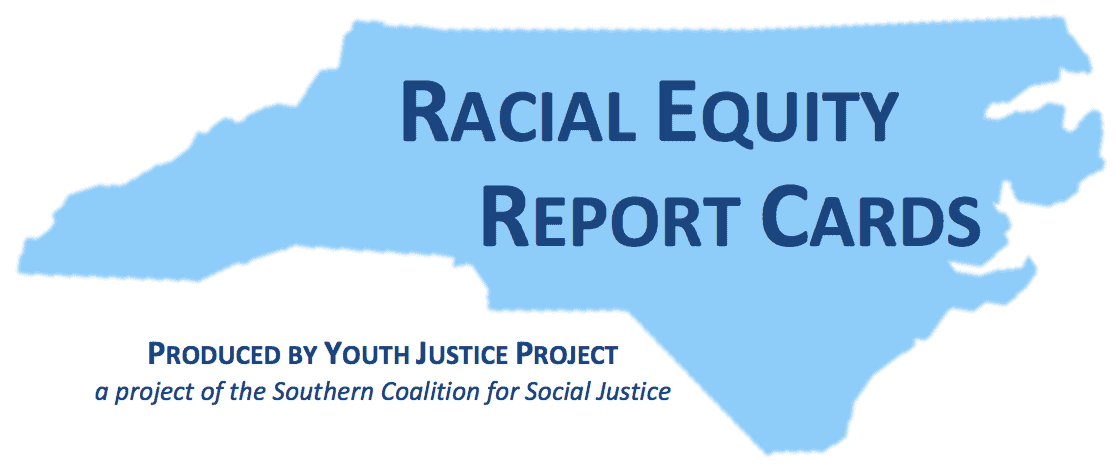 View this year's Racial Equity Report Cards here. Prior year's Racial Equity Report Cards are available for 2016, 2017, and 2018.
View statewide maps of the racial equity disparities by clicking the links below:
What are the Racial Equity Report Cards (RERCs)?
The RERCs use public data to provide a snapshot of a community's school-to-prison pipeline, including any racial disproportionalities that exist in the pipeline. There is a Report Card for each of the state's 115 school districts and one for the state as a whole.
What is the school-to-prison pipeline (STPP)?
The STPP is the system of policies and practices that push students out of school and into the juvenile and adult criminal systems. The STPP has many entry points. Once students are caught in the STPP, it can be very difficult for them to reengage and be successful at school. In almost every North Carolina community, students of color are overrepresented at each entry point to the pipeline.
What is the purpose of the RERCs?
The RERCs are a starting point for community education, discussion, and advocacy. There are many causes of racial disproportionality including, but not limited to, implicit racial bias of decision-makers, institutional and structural racism, and explicit discrimination against people of color. Together, these forces perpetuate racial disproportionality in a community's STPP. The RERCs are not meant as an attack on the critically important public institutions that serve our youth, but rather as a call-to-action for students, parents, advocates, policy-makers, and institutional stakeholders to collectively examine the causes of racial inequity in their community and to develop solutions that will help young people, especially youth of color, avoid and escape the STPP.
MORE RESOURCES
Last Updated: November 10, 2020