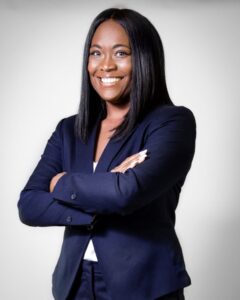 Counsel for Justice System Reform
she/her/hers
Tanita Holmes joined Southern Coalition for Social Justice as a Staff Attorney with the Justice System Reform team in June of 2021. Tanita is a licensed attorney in the District of Columbia and North Carolina. She is currently a member of the D.C. and North Carolina State Bar.  
Tanita is from Smithfield, Virginia. She received her Bachelor of Arts in Integrative Studies with a concentration in Legal Studies and a minor in Social Justice from George Mason University. She graduated Magna Cum Laude and was the recipient of the Outstanding Graduate Award.
Tanita received her Juris Doctor degree from North Carolina Central University School of Law. She was a member of the Women's Law Caucus and the Vice Justice and Justice of Phi Alpha Delta Law Fraternity in law school. She was the recipient of the North Carolina Central University School of Law Student Impact Award.
Tanita has experience in personal injury, immigration, criminal defense, civil litigation, civil rights, and social justice. She has worked for the North Carolina Civil Litigation Clinic, Wake County's Public Defender's Office, and Advance Carolina.
In 2018, Tanita worked on Silent Sam Monument, housing, and prison cases with the North Carolina Central University School of Law, Civil Litigation Clinic. She also represented and defended clients at the Wake County District Court and Juvenile Court when she worked at the Wake County Public Defender's Office.
In 2017, Tanita worked with local organizers to develop and implement strategies to address community concerns with criminal justice reform, education justice, environmental justice, and economic justice. She also helped organize a lobby day at the North Carolina General Assembly to convince legislators to increase the budget amount for hurricane recovery in Eastern North Carolina.
Tanita is passionate about advocating for the oppressed and helping marginalized communities navigate the United States legal system.